We update the news quarterly, the Facebook group is available for general communication with the network.
Our news letters are found here.
September 2023
World premiere Tre Rum Three Rooms 12 september
Net Insight at IBC 2023 (Amsterdam)
https://netinsight.net/mfn_news/net-insight-powers-pioneering-multinational-theater-play-showcasing-commitment-to-merging-culture-and-technology/
Tre Rum Kulturnyheterna
https://www.svt.se/kultur/recension-tre-rum-av-riksteatern–qicdud
Tre Rom Scenekunst.no
https://scenekunst.no/artikler/overskrider-tid-og-rom
About Tre Rum (swedish)
https://e-tidningen.osterbottenstidning.fi/p/osterbottens-tidning/2023-09-06/a/tre-rum-flyttades-den-nya-tekniken-ger-nya-mojligheter/77/1062164/42595324
https://www.radiovaasa.fi/2023/09/tre-rum-kommer-att-ses-i-tre-lander-samtidigt-med-start-12-9-i-schaumansalen-jakobstad/embed/#?secret=f9L9eJE3PK#?secret=tbhzbzZWKU
Tinfo
Kolmella näyttämöllä, kolmessa maassa – samanaikaisesti (tinfo.fi)
Ny teknik ger scenkonstupplevelse på tre scener, i tre länder – samtidigt! (tinfo.fi)
May 2023
Innovative Rooms invitation
DEMO DAY 22.5.2023 at 1-6.30 pm
Artistic Creation and Music Teaching at the Speed of Light
Welcome to Innovative Rooms demo day about remote creative collaboration! During the day, the work with low latency performing arts will be presented at Riksteatern. We also pay a visit to Net Insight, which manufactures the Nimbra technology used in remote collaboration. The day ends at the Stockholm University College of Music Education, where we get to follow a music lesson where the teacher is in Stockholm and the student is in Mariehamn in the Åland Islands. The aim of the day is to demonstrate the format and inspire new collaborations. A network connection with low latency makes it possible to develop the digital format of the performing arts, distance pedagogy, promote cultural equality for minorities and strengthen democratic processes, contribute to less travel and thus to a reduced footprint on the environment.
Registration before May 18th: https://forms.gle/REfFVjE3u7SbjpYJA
December 2022
"With the Speed of light" workshop
Innovative Rooms
A consortium of Centria (polytech) Karleby Finland, Tvibit Tromsö Norway and Riksteatern Sweden was granted EU funding from Interreg Aurora for a feasibility study. The project "Innovative Rooms" started with a technical workshop 5-6 Dec 2022 at Riksteatern Sweden.
September 2022
NPAPWS (https://npapws.org/) will be arranged at Estonian Academy of Music and Theatre in Tallin 12-14 september 2022
Maj 2022
Teaching music with digital presence (https://www.worldacademicforum.se) will be arranged at the University College of Music Education in Stockholm on 18 May at 13.00-15.00. A trailer of the concept https://drive.google.com/file/d/1niVA2c7rM-Qf6OBcM3YwPw7cLj6U-0PK/view
February 2022
Kulturnett 3.0 implementation project in Trøndelag,Norway
October 2021
Dalarna has received funding from the region and the Swedish Arts council for a decision basis for Remote North culture network in Dalarna.
June 17th 2021


Läs slutrapporten om förstudien för Nordic Community for Distributed Presence här.
20th May 2021


Läs artikeln "How NRENs are keeping musicians and artists connected" där Nordic Community for Distributed Presence är med here
19th April 2021


Nordic Community for Distributed Presence och UKM, Kulturskolerådet Norge och Kulturtanken anordnar ett webinarium om kulturnät Norden den 20 april kl 12.30-14.00
The webinar is recorded and posted here a few days after the event.
Link to the recording: https://vimeo.com/539178128
Nordic Community for Distributed Presence/NCDP deltar I den internationella remote workshopen NPAPWS21 den 27-28 april 2021.
The workshop is organized by the European research network Geant and Internet2.
Link to all presentations: https://npapws.org/virtual-npapw21/
22th Mars 2021

Inspirations webinarium Västernorrland.
Watch the entire seminary HERE
20 December 2020
The cross-sectoral seminar " The Nordic Culture Network and a new digital format for artistic design and music teaching at a distance " was canceled due to Covid.
Parts of demonstrations and talks were documented on November 27 in Hallunda as a basis for further talks with the participants - researchers, creators and decision-makers.
About the ongoing work with The Nordic Culture Network, about artistic development, research initiation and knowledge based on low latency and performing arts and music teaching at distance.
Arrangör: Riksteatern, Nordic Community for Distributed Presence/NCDP, SMI (Stockholms Musikpedagogiska Institut), i samarbete med Stockholms Improvisationsteater.
1 video, 6:44 min:
Summary Performing arts and music teaching at a distance, research initiation
Playlist, 10 videos:
Documentation Cultural networks, performing arts and music teaching at a distance, research initiation
16 December 2020
Our partners in Tampere University have received fundig for two projects that include remote technology, MAGICS: National Infrastructure for human virtualization and remote presence (in collaboration with Helsinki University of Arts) and Live + Digital Audiences: The future of culture's powerhouses (LiDiA).
MAGICS:
Helsinki University of arts focuses on measuring and digitizing human activity; TAU for multimodal bodily interaction, game cultures, visual information presentation, and visual building digital worlds; Uniarts illuminates this whole from an artistic perspective. In collaboration with their industry partners, they research and develop shared digital spaces and remote presence.
LiDiA:
LiDiA rebuilds the preconditions and possibilities of the performing arts: Its artistic work and research boldly follow the view that the sustainable and secure future of large audiences arises only from the hybrid operation of cultural powerhouses, small and medium-sized event houses and producers. Hybrid art simultaneously reaches an immediate, physical experience with international, virtual audiences.
2 December 2020
Last week, The National Theatre of Sweden
in collaboration with Stockholm's Music Pedagogical
Insitute, Nordic Center for Digital Presence, Net Insight and Stockholms
Improvisation theater would have organized a cross sectoral seminar on a new digital format for artistic design and music teaching with remote technology.
Due to the current situation with Covid-19, it was not possible to
implement but instead a demo was filmed which will be posted shortly
in this page.
30 September 2020
Riksteatern has received funding from the Regional Council of Västernorrland for a
förstudie Nordic Community for Distributed Presence / NCDP. Region Västernorrland skriver i sin motivation:
"The pre-study is expected to strengthen the development opportunities of cultural and
creative industries through remote technology.
The project is a collaboration with Folkuniversitetet, Norrsken AB, Riksteatern
Västernorrland, Scen Sundsvall, Stockholms Music Pedagogical Institute and
ulture schools in Härnösand, Kramfors kommun , Sundsvall, Timrå kommun and Örnsköldsvik. Work
starts October 1.
13 August 2020

Läs mer om hur Riksteatern och Nordic Community for Distributed Presence
samarbetar för att göra ett nordiskt kulturnät möjligt here (link opens in a new window).
You can also watch a presentation about their
och Nordic Community for Distributed Presences arbete på det digitala informationsmötet "Arena" here (link opens in a new window).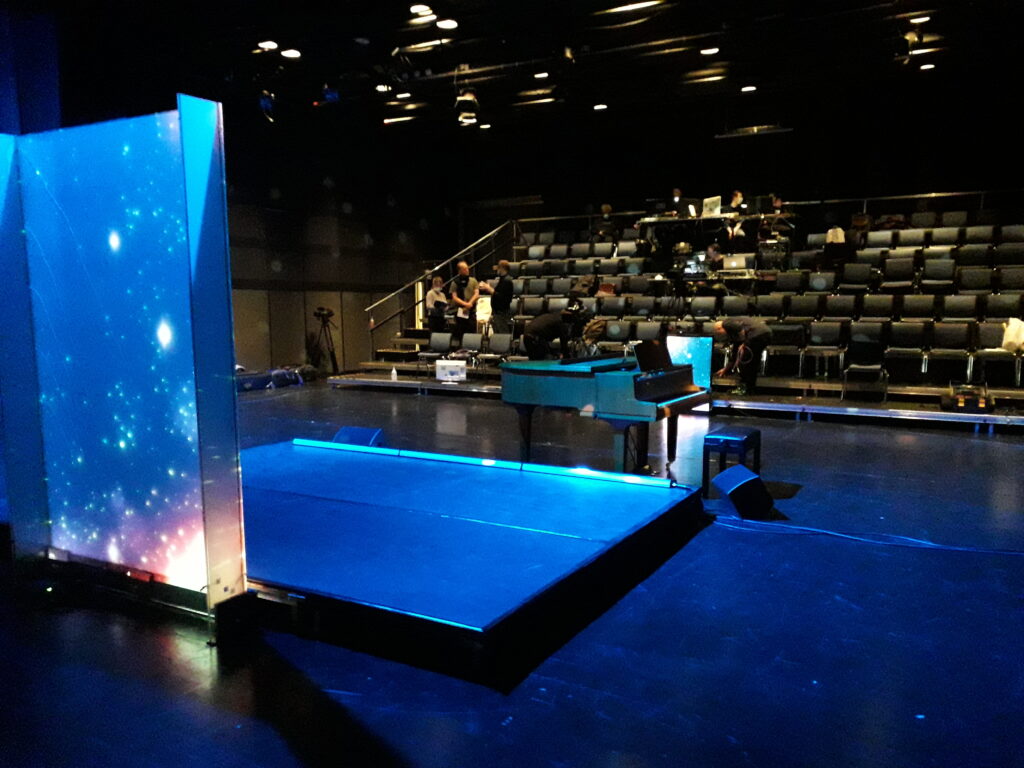 14 May 2020
A project group consisting of Riksteatern SWE, SMI SWE, Norrsken SWE, Wasa Teater FIN, Teater Västernorrland SWE and Rosendals teater NOR has been set up as well as a Advisory board of Norsk kulturskoleråd NOR, CSC/FUNET FIN, North Cultitude Intl, Örnsköldsvik kulturskola SWE, NTNU NOR, Oslo Uni NOR.
Application to Creative Europe submitted, 350 000€





13 May 2020
The Riksteatern production "3 Rum" is planned for late 2021 or spring 2022. It will be played on three stages simultaneously in Trondheim, Norway, Härnösand/Sundsval, Sweden and Vasa Finland.
Nordic Culture Point funding has been granted 50 000€.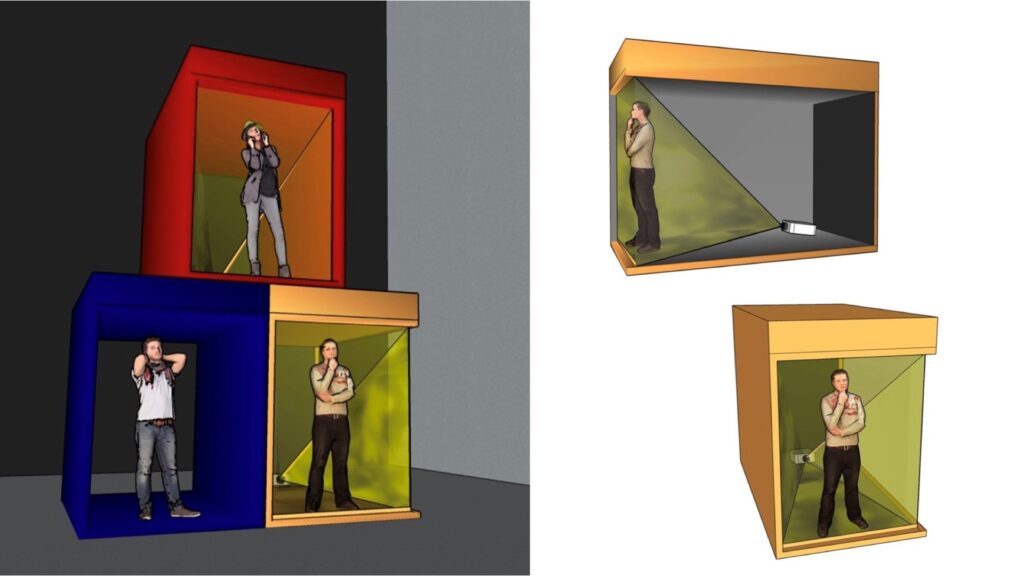 1 May 2020
NCDP-nätverket har bildat en arbetsgrupp som heter Norröver för att inleda genomförbarhetsstudier i Västerbotten, Västernorrland och Jämtland-Härjedalen. Ca 15 organisationer ingår i arbetsgruppen som leds av Mårten Fröjdö från Nordic Community for Distributed Presence/NCDP och Christer Uhre från Riksteatern.
Applications for funding has been submitted to regional councils (RVN, RVB) and Leader (RVB).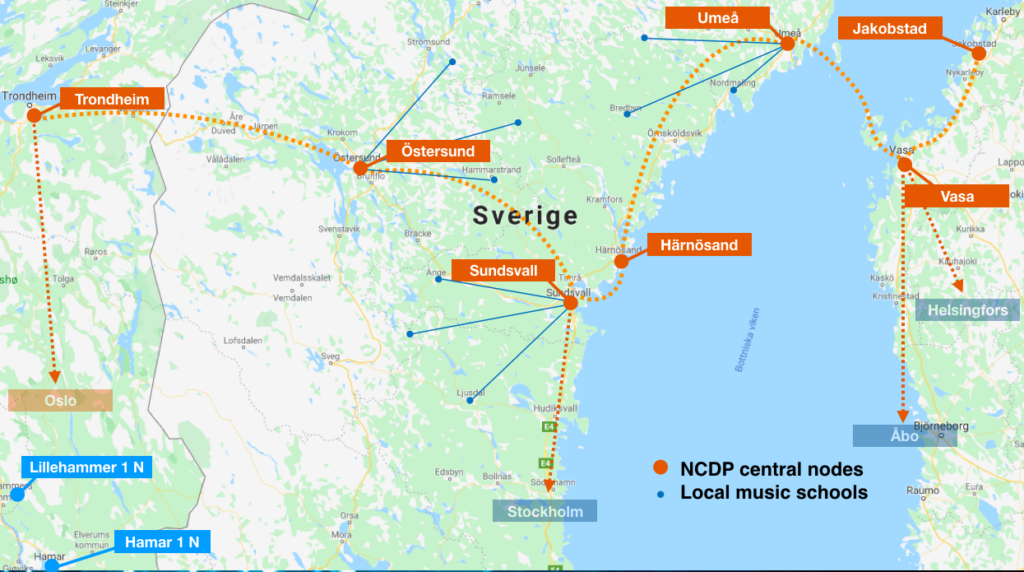 1 April 2020
Produktionen "Man får väl ställa upp" skulle skickas från Svenska Teatern Helsingfors till Bio Savoy Mariehamn med Nordic Community for Distributed Presence/NCDP-format C.
Due the pandemic the Finnish tour was cancelled. A new production is planned for autumn 2020.